DARLING SQUARE RESIDENCES
A Neighbourhood Taking Shape
Our first three residential buildings, St Leon, Wirth House and Darling One have reached completion and since welcomed their first residents to Darling Square. In fact, it's already beginning to feel like home for those lucky enough to call it such. They are now enjoying a heated pool, BBQ facilities, external gym, resident's pavilion and private resident's park, on their level five podium. Think of it as one big block party, all the time.
With all apartments at Darling Square selling out within a matter of hours, we could be inclined to call this place one of Sydney's most desirable places to live. Here's a little bit about each new dwelling place at Darling Square.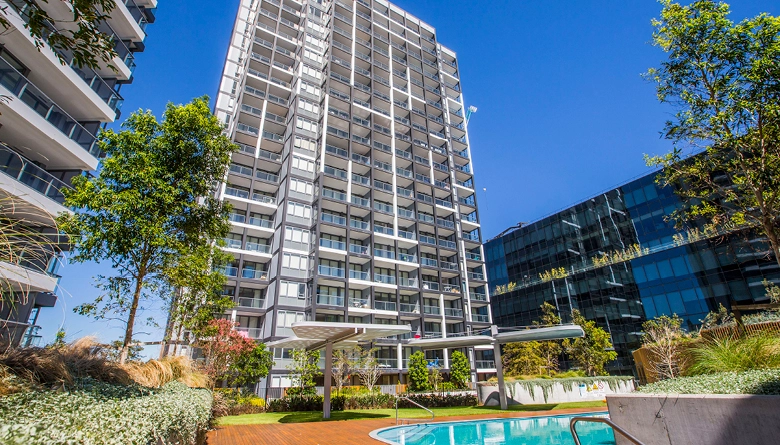 WIRTH HOUSE
At Wirth House, 24 exclusive boutique apartments make up a seven-level residential building (designed by Denton Corker Marshall).
ST LEON
St Leon is substantially taller; a 25-storey residential building positioned to capture stunning CBD and harbour views (designed by Denton Corker Marshall).
DARLING ONE
And taller again, Darling One, the star of the show, stands at an impressive 40-storeys high, and offers a mix of apartments and sky homes (designed by Denton Corker Marshall).
TRINITY HOUSE
Boutique-apartment living with just 51 apartments covering 8 floors (designed by Tzannes Associates).
DARLING NORTH
Views-a-plenty at Darling North, a 41-storey residential building that looks across the harbour, the city skyline and the Anzac Bridge to the west (designed by Tzannes Associates).
HARBOUR PLACE
A place that looks back onto Darling Square on one side, and the CBD on the other, 19-storeys high (designed by Tzannes Associates).
BARKER HOUSE
The somewhat intimate Barker House offers a selection of boutique apartments, including a small selection of two-storey town homes for those after a little more space(designed by FJMT).
ARENA
Where the Sydney Entertainment Centre once stood is Arena, a development combining beautiful interiors with views to the podium garden (designed by FJMT).
DARLING RISE
If your flavour is luxury, then Darling Rise could be your thing, with its apartments spread across 29 floors (designed by FJMT).