THE EXCHANGE
Taking prime position at Darling Square located at 1 Little Pier Street, Haymarket, is The Exchange, a spiralling, light-filled 'hive,' designed by world-renowned Japanese architecture firm, Kengo Kuma & Associates who are bringing their signature design aesthetics to Australia for the first time.
A civic space to meet the city's needs as much as it's ambitions, The Exchange provides convenience while connecting Sydney to a rich range of services and amenities within Darling Square.
Within The Exchange, discover the new state-of-the-art City of Sydney library (opening in October 2019), a ground floor food hall that is sure to satisfy your appetite from day-to-night called Maker's Dozen and a Cantonese mezzanine restaurant by Golden Century. There is also a new childcare facility spanning over two-floors and a rooftop with sweeping views of Sydney's skyline.
Powering Sydney's start-up culture, The Exchange will include a dedicated IQ-Hub and Makerspace - providing flexible spaces for events, seminars, meetings, workshops and cross-disciplinary creativity and invention.
Standing at six-storeys high and wrapped in 20 kilometres of sustainably sourced Accoya timber, The Exchange is envisioned as the newest Sydney architectural icon and an innovative hub within the city.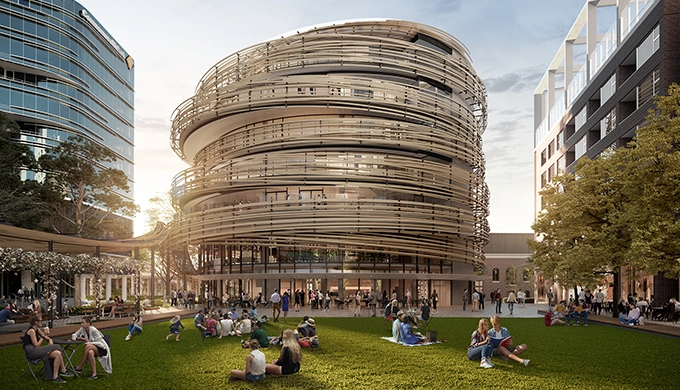 THE NEW DARLING SQUARE LIBRARY
In October 2019, the old Haymarket Library will move into its new home in The Exchange and become Darling Square Library. Along with the name change, the library will enjoy as much as four times the amount of room it used to have. This extra room will house over 30,000 items, including an extensive Asian literature collection and daily newspapers from around the world, making it a fantastic community resource.
With a dedicated children's area, free WiFi, public computers, plenty of study spaces, bookable meeting rooms, and ample free space to simply read or work on projects solo or with friends or colleagues, the Darling Square Library will be a core part of the thriving, creative environment.
THE IDEAS LAB
Also contributing to the environment of creativity and innovation is the Ideas Lab. A 200 square meter makerspace within the library which has 3D printers, soldering stations, and a laser cutter, all of which can be used by startups and by the public as part of regularly scheduled workshops.
So be sure to come by when it is up and running and find out when you (or your kids) can get some hands-on experience with these tools. There will be a range of classes and workshops available, including basic lessons in coding, robotics and virtual reality design! It is sure to be a unique experience, and make for a great story to share with friends and family.
XOPP
Located on the mezzanine level within The Exchange, experience the flavours of Cantonese cuisine at XOPP, the latest restaurant from the team behind Haymarket institution, Golden Century.
Bringing a contemporary dining concept, you'll find Cantonese delicacies mixed with Australian ingredients. Hiramasa Kingfish Sashimi is served alongside Finger Lime, Typhoon Shelter Styler Southern Rock Lobster is made to order, and the succulent Peking Duck with pancakes are not out of place. To finish, try their inventive Jasmine Bubble Tea Panna Cotta.

Fans of Golden Century will also notice a few subtle nods to the families flagship restaurant. Most notably the beloved Pipis in XO Sauce dish, which has also been paid homage to in the restaurant's name.
For those seeking a light meal, XOPPs bar also offers snacks and light dishes served alongside cocktails and an impressive list of 250 wines. Seated at the bar you can enjoy the atmosphere and pace of the 160-seat restaurant or take in the spiralling wooden exterior of The Exchange through the floor-to-ceiling windows.
MAKER'S DOZEN
Serving up everything from Vietnamese tacos to sweet treats, Marker's Dozen has brought together twelve of Sydney's best bites together under one roof, making it even easier for food lovers to experience the cities most flavoursome dishes!
Inside you'll find names like Bau Truong, Cabramatta's home-style Vietnamese food, serving up Vietnamese tacos - some with Vegemite! - alongside the buttery roti and string hoppers at Sri Lankan-fusion hawker joint Hopper Kadé. Be sure to look out for Pasta Wafu, a Japanese pasta collab between Banksii and Ume's Kerby Craig, serving up unami pastas which will have you planning a return trip!
For those with a sweet tooth, Saga Lyte is the little sister to Enmore's Saga, serving up Andy Bowdy's down-to-earth desserts, flaky pastries and his latest creation, sausage roll (nicknamed the 'Bowdy Roll').